Here is what I thought was the coolest thing that Anthrocon had ever done: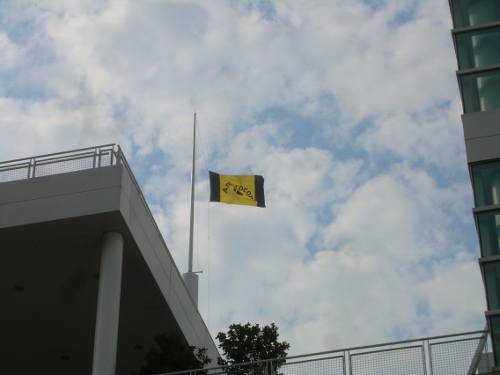 So, true to form, Eurofurence followed with this: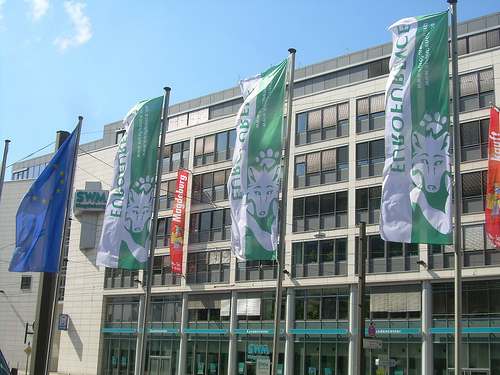 That was outside. And as if that wasn't enough to make me go "D'OH!", here's what they had inside: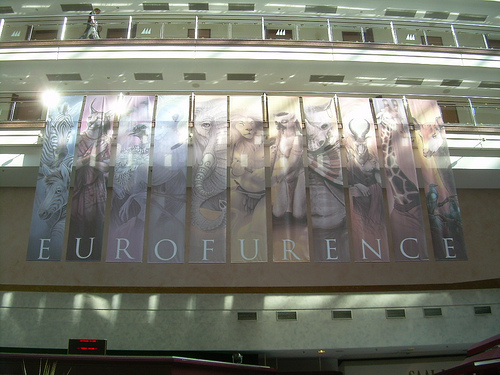 Damn cheetahs!

Eurofurence has a long tradition of making our coolest coolness look tepid by comparison, though, so who am I to stand in the way of tradition?

The con was wonderful, despite a few rocky moments that were a result of culture shock, this being the first time that EF has been situated in a major downtown business hotel. I confess to entertaining a bit of Schadenfreude when they encountered ELEVATOR HORROR for the first time. Heh-heh! Welcome to my world, guys! I am confident, though, that once both convention and hotel have a chance to reflect and get to know each other better, all or nearly all of these awkward-first-date moments will evaporate.

Stan Sakai was guest of honor and as always was purely outstanding. He is such a friendly and outgoing and overall pleasant fellow, and always, always has time for a kind word and to share a laugh with his fans. He also helped me out on some of my panels, doodling here and there behind my back. He drew this lovely picture of
2_gryphon and myself at one point: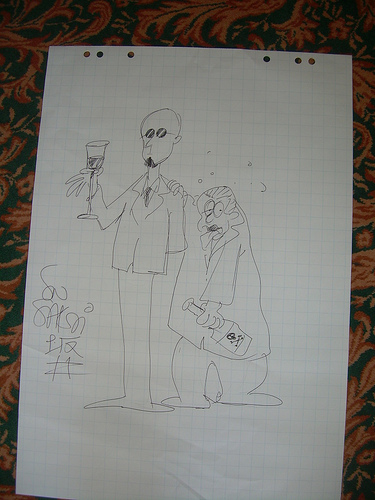 I didn't get a chance to ask him why he drew me with a goatee and sunglasses and why he drew '2' so awkwardly. Maybe he just hasn't had a good look at my friend and colleague of late.

I did many, many panels for my kind hosts and was quite busy, but that is just fine. I really prefer to be busy at cons. It keeps me from feeling old. One panel started as a gag. When they asked what panels I would like to present, I jokingly said, "Sake appreciation: bring me sake and I will appreciate it!" Well...they did! They invited the convention's sponsors and I shared several varieties with them, to the delight of all. Stan and his lovely wife Sharon were also in attendance but they do not drink alcohol. In true Japanese fashion they accepted each cup I offered but I don't think they actually drank much of it.

During my "Science, Pseudoscience and Outright Crap" presentation a mysterious partial-fursuit came slinking in and started pawing at me. I was completely mystified until the suit leaned in and whispered, "Du bist ein dummer Amerikaner!" My turn to be astonished. Andre Oppitz!!! The Hairless Master of Alcohol himself from the famous Ringberg Hotel, home of Eurofurence 13-15, a man who has become a fantastic friend to all Eurofurs as well as to me. He came all the way up to spend a day with us, and he even brought along his mom, who thought it odd but delightful. She was impressed that her little son had achieved rockstar status among this thousand-fold mob of fluffy creatures.

Speaking of Mom, I had my parents with me. My poor dear old mother isn't getting around as well as she used to and by the second day of the convention she could not walk at all. Furries to the rescue! Among the attendees was a chap whose fiancee happens to work in conjunction with an outfit that rents wheelchairs. They dashed out and got us one, and Mom spent the con speeding around and pulling wheelies and doing old-lady burnouts in the lobby. In retrospect I am not entirely convinced she actually needed the chair.

I could go on and on but it would be the same old story: an outstanding pawpet show, a dedicated staff, a wonderful time in a charming land. I took some photos which can be found at my Flickr site.

Sunday night was the Dead Dog Party in which we took over the entire lobby and the bar and just hung out. Ordinarily, Monday would mean an early drive to Frankfurt for the flight home, but this year was different. You see, the Ringberg Hotel left an indelible impression on me as well as upon many of the Furries who had attended Eurofurence there. As I've said elsewhere, you can go to any hotel anywhere in the world and you will have people who are willing to work for you, or you can go to the Ringberg and have a family waiting to welcome you home. That is just how remarkable the team at that hotel is. I could not bear the idea of never seeing it again so I resolved to spend just one more day there, and left an open invitation to anyone else to join me there for a post-Dead Dog Party.

I had originally referred to it as the "Eurofurence After-Party" but the Germans were quite adamant that it should not be called such, so I took to calling it "Suhl Furmeet 2010."

We had no idea how many folks would be joining us. I only knew of about 10, but in the end roughly 30 showed up, at least of third of them fursuiters. We made a fine party of it with Andre helping us figure out how to feed everyone (Currywurst and fries for 4 Euro? Great! Make us 40 of them). The fursuiters had a ball with the other guests who were delighted to have such company, especially some special-needs kids who were at the hotel for an outing. Everyone had such a grand time that we said, "We've got to do this again next year!" and as far as I know, we will. And as suggested by the Ringberg's reservation manager, we're calling it the RINGBERG REVIVAL!

I took some pictures which are likewise on my Flickr site. Note: People were joking that "Kage is starting up another con in Europe." Uh-uh. No way. It's a party. There's no organizer and no organization. I'll make sure the hotel is stocked up on Currywurst but beyond that you're on your own!



To Cheetah, Nightfox and the whole Eurofurence team: well done! Can't wait for next year.